As our name suggests, we are a choir which sings four-part harmony, Soprano, Alto, Tenor and Bass. All of the music that we sing has been arranged by our very talented Musical Director, Ben Jones. Currently we are singing a selection which includes Don't Let the Sun Go Down on Me, Bad Day, Mr Songbird, I Will Survive, Wind of Change, and Touch the Sky. We also do some great medleys and mash-ups such as Disney music, Somewhere and Friends. We have also written our own song, Find Your Way, which identifies strongly with resilience.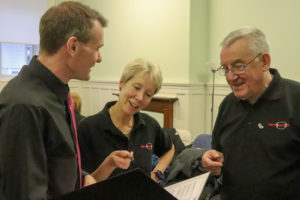 Everybody is welcome to join HarmonyChoir, no auditions are necessary and no previous experience is required.
Our fees are £120 a year, paid monthly at £10 a month. A limited number of concessions are available. We operate the first month as a free trial, to allow new members to try us out before committing.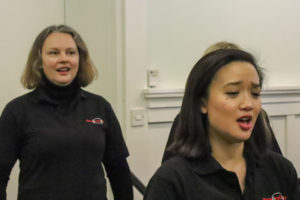 The choir provides a folder with all of the scores for the current repertoire, access to mp3 tracks of all of the different parts – to aid learning the songs – superb for those who don't sight read, frequent opportunity to sing with the choir in formal and informal settings throughout the year, and the choir polo shirt – for informal events.
We also run a number of social events throughout the year.
Benefits of singing in a choir
The results of the original research project which created HarmonyChoir showed that participation in a singing group leads to improved mental health, well-being, and social relationships as well as positive changes in self- and social identity, increased empowerment and connectedness with others.
HarmonyChoir members can testify that singing in a choir builds friendships and connectedness, increases social identification and is a fun and exciting way to spend your free time.
The above is taken from an article published on The Mental Elf